Fajita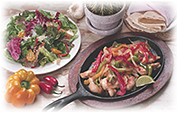 Definition: "a dish of Mexican origin consisting of strips of spiced beef or chicken, chopped vegetables, and grated cheese, wrapped in a soft tortilla and often served with sour cream." Fajita means "little strip or belt" in English. The fajita was developed in the late 1930s or early 1940s by Mexican ranch workers living along the Rio Grande on the Texas-Mexico border. When a steer was butchered, the workers were given the least desirable parts to eat for partial payment of their wages. The workers soon learned to make good use of the tough cut of beef known as "skirt steak." Today, the term fajita has completely lost its original meaning and has come to describe just about anything that is cooked and served rolled up in a soft flour tortilla. The only true fajitas, however, are still made from skirt steak. Sometimes called, "sizzling fajitas" this dish is usually served on a hot skillet, or at the least, a very hot plate. Ingredients for a fajita are: skirt steak, green or red bell pepper, thinly sliced onion, tomatoes, shredded cheese, sour cream, guacamole, and salsa...all tucked into a flour tortilla. (~Jean)

Farolito (or Luminaria)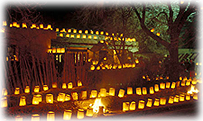 The first luminarias in North America were bonfires of crisscrossed piñon boughs arranged in 3-foot high squares. The Pueblo Indians in New Mexico have long made these small fires outside their homes to light their way to church on Christmas Eve. Later luminarias were small paper lanterns made from colored paper brought to this continent from the Orient. Instead of hanging these delicate lanterns from trees or on wires, they were placed on the ground, on rooftops and along pathways. Today, the word farolito is used in Northern New Mexico, while luminaria is used in Central and Southern New Mexico. Contemporary farolitos are small brown paper bags, filled with an inch of sand that supports a candle. At Christmas time, New Mexico streets and rooftops are lined with these festive lights. (~Aimee)

Fechin House
In 1927, Russian-born and internationally-known artist, Nicolai Fechin, joined the growing number of artists moving to Taos. His home, now open to the public as the Taos Art Museum, is a testament to his prolific talent. Designed and constructed circa 1927-1933, the structure is on the National Register of Historic Places. Considered an architectural masterpiece, it is filled with Fechin's distinctly Russian, eleborate woodcarvings on doors, windows, furniture and art. Also on display are his drawings and paintings, as well as those by members of the Taos Society of Artists, Taos Moderns, and works by comtemporary artists. (~Jean)

Fechin, Nicolai
Russian artist, Nicolai Fechin, moved to Taos with his wife and daughter in 1927, in the hopes that the climate would be good for his tuberculosis. Following a short time as guests of Mabel Dodge Luhan, the Fechin family purchased an adobe home, which Nicolai immediately set out to reinvent in his own style. One of the most unusual and beautiful homes in Taos, this adobe, filled with Russian wood carvings, is now The Taos Art Museum. (~Aimee)

Flauta (see Taquito)


A flour tortilla tightly rolled around a filling such as beef, chicken, or cheese, and then deep-fried. It is usually served on a bed of shredded lettuce with sour cream, guacamole and salsa on the side. This dish is a version of the very popular "taquito," which is made with a corn tortilla. Flauta is the Spanish word for flute, and this treat does look somewhat like a flute once it is rolled up, since flour tortillas are usually larger than corn tortillas. To dispell any confusion between the two dishes, since flautas are sometimes made with corn tortillas, here lies the distinction: in some areas of Mexico the flauta and taquito are determined by size. The corn flauta is very long and thin, made from a burrito-sized corn tortilla, and would be served as a main dish; whereas the taquito is the shorter version, usually served as an "antojito" or appetizer. (~Jean)

Frijoles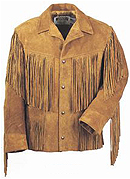 Spanish for beans, as in "frijoles refritos" or refried beans. Beans are an edible seed produced in pods of vines and bushy plants of the legume family. A staple of many cultures, including Spanish, Mexican and American Indian, beans are an excellent source of amino acids, (protein) B vitamins and iron. (~Aimee)

Fringe
Definition: "an ornamental border of threads left loose or formed into tassels or twists, used to edge clothing or material." Fringe originates in the ends of the warp, projecting beyond the woven fabric, but many times it is made separately and sewn on, consisting sometimes of projecting ends, twisted or plaited together, and sometimes of loose threads of wool, silk, and linen, or in the case of Western wear, narrow strips of leather. Commonly found on Western-style leather coats, jackets, pants, boots, and hangbags, fringe adds that extra special "cowboy" touch to both vintage and contemporary Southwestern apparel. (~Jean)

Frito Pie
The classic Frito pie is this: a single-serving bag of Fritos, opened lengthwise and topped with chili or chili beans, Velveeta cheese, lettuce, tomato, and onion. For the hearty, green chiles and/or jalapeños are added.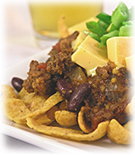 Frito corn chips have been around since the 1930s. Food historians indicate that they were first served in San Antonio in 1932, and were originally made of tortilla strips. A local candy maker named Doolin paid $100 for the original recipe. His company refined the chips, mechanized the process, and then moved the company to Dallas to market the product. The new company was named the Frito Company and in 1961 it merged with the H. W. Lay Company to form the snack king corporation called Frito-Lay, Inc. Although there are many brands and types of chips, no one has been able to copy the distinctive taste, texture and crispness of Fritos. And so, when a recipe calls for Fritos, nothing else will do.

As to its true origin, some say Frito pie actually did get its start at the Woolworth's on the Santa Fe Plaza in the 1960s, as a dish created by lunch counter worker, Teresa Hernandez. Corporate lore at Frito-Lay, however, claims that Daisy Dean Doolin, mother of the man who first bought the rights to market Fritos in 1932, not only perfected her son's product, but also created the Frito pie recipe as a way to help market the corn chips. Regardless, this dish is extremely popular throughout the Southwest, especially Texas, New Mexico and Oklahoma. (~Jean)

Fry Bread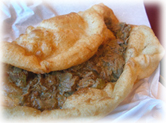 An extremely popular Native American food, found throughout the United States, fry bread is a flat dough pan- or deep-fried in oil, shortening, or lard. The dough is generally leavened by yeast or baking powder. Topped with additions such as beans, ground beef, or shredded cheese, fry bread is then served as "Indian tacos" or "Navajo tacos." Fry bread is also served sweet, with powdered sugar on top.

Some say that fry bread came from the time when about 8,000 of the Navajo people were imprisoned at Fort Sumner, New Mexico, during the 19th century. It is said that the Navajos were just given wheat flour and lard to eat, two commodities that were quite foreign to their bean and corn-based diets. Others say that the Navajo and folk of other tribes made the bread because they didn't know what else to do with the government-granted wheat and fat they were provided on the reservations. Regardless, once you've tasted fry bread in any of its forms, you'll want to come back for more! (~Jean)



Pictured top to bottom:
1} Fajitas are served up in a hot skillet; 2} Farolitos light up the Christmas season in Santa Fe, New Mexico; 3} Refried beans are a mainstay of New Mexico cooking; 4} Southwestern style suede fringed jacket; 5} Frito pie is a popular snack in the Southwest; 4} Navajo fry bread is a favorite meal at markets and festivals throughout New Mexico